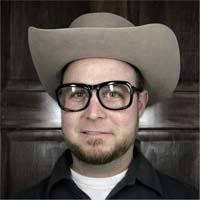 I wanted to write about my extreme sadness over the passing of one of the great pop geniuses of our time, Tony Carbone of the band Bikeride. For over ten years Bikeride has been releasing classic album after classic album and their latest album The Kiss ended up being the final album from the band.
You can hear the kiss on their Last.fm page
here
.
According to a flyer for a benefit show a month before his death "Tony Carbone is a 34-year old elementary teacher for the Long Beach Unified School District. Two years ago, Tony was diagnosed with Stage IV melanoma (the most aggressive and life threatening form of skin cancer), which spread to his brain. …Tony and his wife have nowhere to turn. Tony's Avastin cycle, recommended by his doctor, will cost $30K. Tony's family and friends are organizing a fund raiser to help pay for the cost."
[1]
Sadly, Tony didn't make it and passed away on March 6, 2008. I had asked Tony for an interview on my Pop Music blog before he passed, but unfortunately I never got the chance to talk with him in depth. But even still I hope to do a recap of their music and albums soon.
I encourage everyone to listen to their music and if you did enjoy bikeride leave a kind comment on their myspace.

Myspace