Here's another assorted Beach Boys bootleg that I want off my computer. So I'm throwing it up here!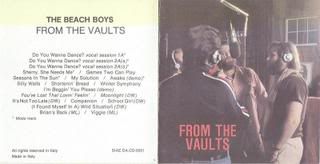 All I really know about this bootleg is: It's very good quality (320 kbps), It's random, and it was definitely made in Italy.
Sherry She Needs Me is great if you've never heard it before, it's pretty shaky though. Same deal for Seasons in the Sun. Actually, the sound quality sucks on it. I'm Beggin' You Please (demo) is pretty awesome too. Sounds like it could have made a really good song.
But the big surprise here, are the last 2 songs. Brian's Back and Viggie. Both are Mike Love songs. They're really great. This version of Brian's back has a beautiful orchestrated introduction that I love. And Viggie is just so cheery and orchestral as well. Kudos to Mike Love for those 2 songs, they're very sentimental and cute.
Click Here To Download
alt
,
alt
,
alt
,
alt
,
alt
,
alt